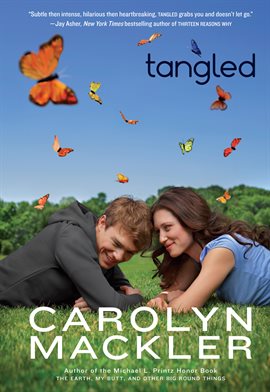 Subject:
Friendship
Emotions & Feelings
Social Themes
Young Adult Fiction
Digital Format:
HOOPLA E BOOK
Summary
Paradise wasn't supposed to suck.
Not the state of being, but a resort in the Caribbean.
Jena, Dakota, Skye, and Owen are all there for different reasons, but at Paradise their lives become tangled together in ways none of them can predict. Paradise will change them all.
It will change Jena, whose first brush with romance takes her that much closer to having a life, and not just reading about those infinitely cooler and more exciting.
It will change Dakota, who needs the devastating truth about his past to make him realize that he doesn't have to be a jerk just because people think he's one.
It will change Skye, a heartbreakingly beautiful actress, who must come to terms with the fact that for once she has to stop playing a role or face the consequences.
And it will change Owen, who has never risked anything before and who will take the leap from his online life to a real one all because of a girl he met at Paradise. . . .
From confused to confident and back again, one thing's certain: Four months after it all begins, none of them will ever be the same.
School Library Journal Review
Gr 8 Up-Four teenagers, Jena, Skye, Owen, and Dakota, come together and cross paths during a vacation in the Caribbean. A quarter of the book is devoted to each teen's perspective. Jena tells about her feelings of inferiority when around beautiful Skye, the daughter of her mother's best friend. Skye wants to figure out the truth about her father and the suicidal depression that turns her away from auditioning for even one more film. Dakota drinks, is sexually pushy with girls, and deals with his girlfriend's death in a car accident when she was with another guy. Owen, Dakota's younger brother, hides his insecurity behind the safety of his blog and general computer nerdiness. All four lives become "tangled" together while at the resort and after they reach home, and the way the tangles twist and unfold allows these teens to discover their true selves and find personal satisfaction. Mackler expertly creates believable characters, plots, and settings. The teens are good people who have obstacles to overcome and problems to face. Whether realizing it directly or not, they help one another because of their chance relationships. As powerfully depicted as in Emily Wing Smith's The Way He Lived (Flux, 2008), the various viewpoints weave together to create a compelling and cohesive whole. Themes of understanding, respecting others, and the power of good communication are carefully and effectively woven throughout a story that begs for discussion.-Diane P. Tuccillo, Poudre River Public Library District, Fort Collins, CO (c) Copyright 2010. Library Journals LLC, a wholly owned subsidiary of Media Source, Inc. No redistribution permitted.
Publisher's Weekly Review
Mackler's latest is structured as four interconnecting novellas that explore the gulf between teenagers' inner lives and what they project externally. Starting with awkward Jena's Caribbean vacation, Mackler (Vegan Virgin Valentine) is at her best with the kind of insecurities readers will find familiar, be it Jena's carefully chosen flight outfit ("under the glaring lights of Kennedy airport it all felt wrong") or her self-consciousness around Skye, the glamorous daughter of her mother's best friend. Jena has a fling with studly Dakota, who narrates the second novella. Dakota is the least likable character (earlier, he tells Jena, "[Y]ou have some fine-looking tits"), but his growth as he reflects on his rocky relationship with his girlfriend, who died in a car accident, is moving. Privileged Manhattanite Skye is at the center of the third story, which exposes the depression under the surface of her seemingly charmed life. The final tale, about Owen, Dakota's brother, ties up various loose ends and provides a happy ending. Mackler's protagonists have distinct, engaging voices; if the book never gets terribly deep, it's still an entertaining read. Ages 14-up. (Jan.) (c) Copyright PWxyz, LLC. All rights reserved
Horn Book Review
Jena describes her vacation at a Caribbean island resort where her life intersects with three other teens--her family friend Skye and brothers Dakota and Owen, each of whom narrates his or her own story. Mackler constructs four distinct protagonists; though each section stands alone, the book's appeal lies in the tracing of its characters' "tangled" lives. (c) Copyright 2010. The Horn Book, Inc., a wholly owned subsidiary of Media Source, Inc. No redistribution permitted. All rights reserved.
Kirkus Review
Brimming with girl appeal, Mackler's emotionally generous, character-driven novel tells the story of four vacationing teens whose lives are forever changed after crossing paths on a tropical island. The first protagonist is Jena, a chatty, insecure 16-year-old, who feels fat and imperfect. This is never more true than when she's around Skye, who, at 17, is rich, beautiful and an actress to boot. Skye treats Jena with barely disguised condescension, deliberately going after the hunky, athletic Dakota, a fellow vacationer who initially showed an interest in Jena. For his part, Dakota, still shaken by the untimely death of his mostly off-again girlfriend, is there at the express command of his divorced mother, who wants him to bond with his younger brother, Owen, a shy blogger who hides his considerable smarts behind his laptop. The novel, which has strong romantic undertones, chronicles the teens' interconnections and the psychological growth that results, deftly demonstrating that people aren't always who they seem to be. (Fiction. 14 up) Copyright Kirkus Reviews, used with permission.
Booklist Review
Mackler, whose previous titles include the Printz Honor Book The Earth, My Butt, and Other Round Things (2003), introduces another cast of memorable, authentic young characters in her latest heartfelt novel. Four teens share the narration of the cleverly constructed story, which begins at a five-star Caribbean resort, where two mothers have thrown together their very different teen daughters. Jena, a Westchester County high-schooler, is her own worst critic. She worries about her weight, powders her zits until her face resembles a funnel cake, and marvels at her companion, Skye, a gorgeous, wealthy young actress in Manhattan. Jena spots lanky computer geek Owen, but she ends up fooling around with his brother, Dakota, a beer-swilling jock who dumps her when Skye shows interest. The often-hilarious story, which takes place over a four-month period, builds in poignant layers as each character narrates in a fresh, frank voice that defies stereotype. Although the teens' tech-heavy communication is utterly contemporary, their insecurities, desires, and questions about family, self-worth, and first love are timeless.--Engberg, Gillian Copyright 2010 Booklist
The following items were successfully added.
There was an error while adding the following items. Please try again.
One or more items could not be added because you are not logged in.